Fitness Galore
Core Focus
Challenge Your Core Muscle Groups! With the assistance of fitness sliders, you have to use core strength to complete the various exercises, which can stimulate your strength very well.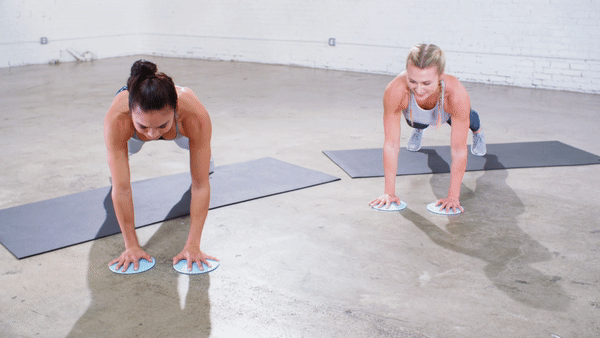 Multiple Exercise Methods: You can use the gliding discs for home fitness, strength training, Pilates, Yoga, etc.They will help you slide well, thereby reducing damage to a large extent.
Suitable for Different Floors: The 2 sides of the slider are made of different materials, one side is EVA foam, the surface is fabric (Suitable for hard floors, such as hardwood floors or tiles, etc.), and the other side is wear-resistant ABS material (Suitable for soft floors) , such as carpet or turf, etc.).
Light and Portable: The slider discs are lightweight and small (1 Pair: 6.9 inches, 0.32 pounds), which are very portable, Meet your daily fitness needs at home and outside.
Functional: This fitness disc slider allows you to perform skills that target every muscle group, mobilize all muscles to adapt exercise, thus can enhance the coordination of your whole body
Comfortable and Non-slip: The reverse side use soft foam, more comfortable and non-slip, you can use the gliding discs on any surface such as wood, carpet, rug or tile
Portable: Small size and lightweight, so you can easily take it anywhere; Perfect for exercising on the go, at home, the gym, hotel room or the park
Wide Use: You can use these sliding discs fitness for sliders gym, core reinforcement, athletic conditioning, cross fit, physical therapy, yoga, dance, balance training and so on
How long will it take to receive my order?

We offer FREE worldwide shipping on all orders!

All orders take 5-10 business days to be delivered depending on your location.
Is my order safe?

All orders include a 30 days money-back guarantee.

If you're dissatisfied with the quality of our product, contact us at support@fitness-galore.com and we'll assist you immediately.